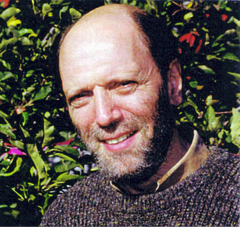 Leon Steinmetz is an American artist living in Massachusetts who has been acclaimed for his free, unrestrained drawing style and his elegant, refined colors. His work, ranging from the abstract to the figurative, can be playful and witty, and yet profound. Asked recently about his method, he explained: "When I want to say something visually, I often feel that one sheet or one canvas is insufficient. So, I keep going, producing the works until the topic is visually exhausted."
Steinmetz's work is represented in the permanent collections of major museums, including the British Museum in London, the Albertina in Vienna, the Metropolitan Museum of Art in New York City, the Museum of Fine Arts in Boston, the Philadelphia Museum of Art, the Yale University Art Gallery, the Dresden State Art Gallery in Dresden, and the Pushkin State Museum of Fine Arts in Moscow among others. He is also represented in American and international private collections, and in the rare book collections of both the New York and Boston public libraries, as well as in the rare book collections of Princeton, Harvard, and Columbia universities.
He is a winner of the First Prize at the Biennale in Latina, Italy for his series inspired by Ovid's Metamorphosis; he has participated in numerous group exhibits, and has had solo exhibits at the famed Poindexter Gallery in New York City, the Paesi Nuovi Gallery in Rome, and the Gurari Collections in Boston, among others. His most recent solo exhibition was at the State Pushkin Museum of Fine Arts in Moscow, Russia.
Steinmetz has published two limited edition collector's books based on works of Nikolai Gogol. He is the winner of the National Best Book Award from the American Institute of Graphic Arts and the Best Book Award from the Bookbuilders of Boston for his collector's edition of The Portrait: A Fantasy in Twenty-One Sheets (Amsterdam, The Netherlands, Pegasus Publishers, 2006) inspired by Gogol's The Portrait.